EXERCISE 1:
What do you want to do?
Aim of the activity
This exercise allows you to become aware of activities you like to undertake and whether they correspond with your predispositions and whether they positively affect your sense of meaning.
Theoretical framework
The hypothesis behind this activity assumes that the greatest probability of an individual undertaking a given activity (e.g. work) is when it meets three basic criteria, namely:
it is adequate to the abilities and predispositions of a given person,
it has similar characteristics to the activities that the individual already undertakes and likes,
it satisfies a person's sense of meaning, so the individual has a subjective belief that undertaking this activity makes sense and is important.
Instructions: Write as many answers as possible to the following questions on a piece of paper. Take your time, don't hurry. Also, don't hesitate to add something when you think of it later. You can keep this card, come back to it and add it.
Questions:
What makes sense to me?
What do I get a sense of meaning and purpose from?
What satisfies me?
What do I like to do?
What are my predispositions?
What am I good at?
After writing down the answers to the above questions, find overlapping answers in each of the 3 areas (you can draw it in the form of 3 intersecting circles – set with a common part).
The ones that appear in all three areas will give you the best of luck. Thanks to this activity, you will learn what your calling is in life and what activities would give you the most fun.
It all starts with what I "want". Doing anything with such motivation helps to overcome all "can't", "should", "must" etc.
EXERCISE 2:
The wheel of competences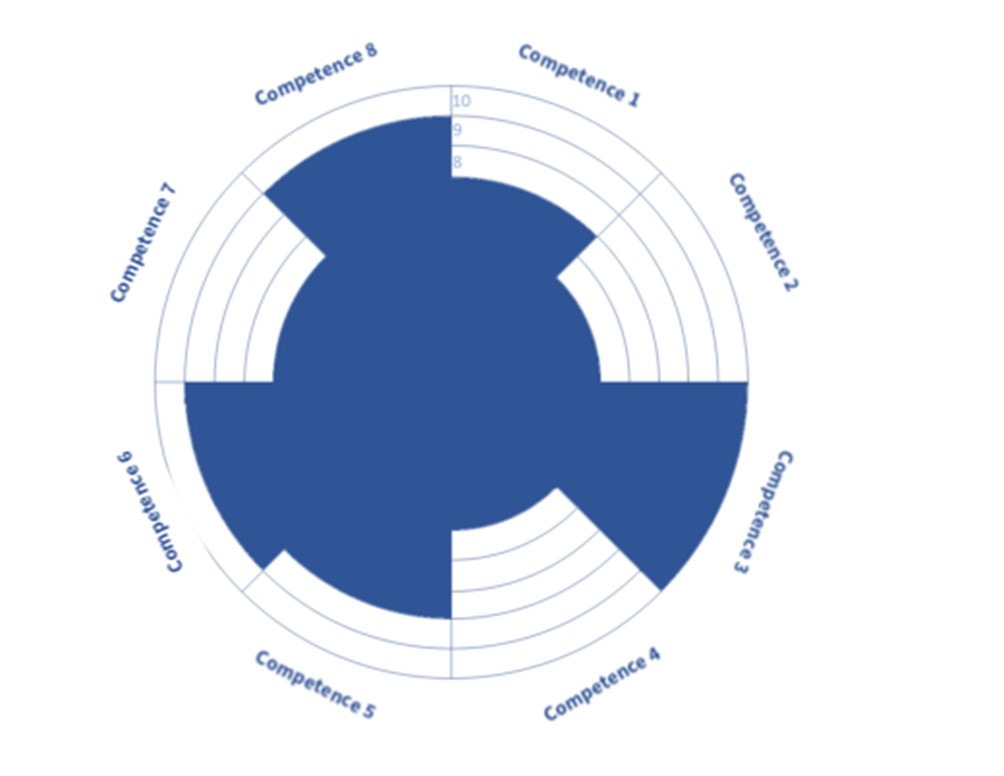 Instructions
Draw a large circle on a piece of paper. Divide it in half, again in half, and then in two diagonals so that you get eight parts of the cake. Below is an overview drawing that you can use.
Aim of the activity
This activity is designed to strengthen your sense of competence by making you aware that you already have many of the subjectively important competencies that an "ideal employee" should have. Besides, you will see that those competencies that are still low in intensity can be trained. For this purpose, you will determine how you will develop them and plan activities aimed at their improvement.
Theoretical framework
This exercise allows the individual to assess their competencies and abilities and provides an opportunity to present them graphically. Moreover, it assumes that identifying competences subjectively important for a given person, and then realising that some of them this person already has, strengthens the sense of competence and agency of the individual, consequently increasing self-confidence and motivation to undertake a given activity (e.g. work). The second part of the exercise allows you to plan activities aimed at improving those competencies which are low on the intensity scale.
EXERCISE 3:
Self-esteem Journal
Instructions
Keep a journal of their daily successes for a week. If you feel like it after the first week, you can continue doing so.
Aim of the activity
This exercise aims to improve an individual's self-esteem by diverting attention from failure to success. Keeping a diary of your daily achievements builds up the habit of seeing them and also causes the individual to perceive more experiences and situations in terms of their own successes and achievements.
Theoretical framework
Research shows that people with lower self-esteem often tend to pay more attention to their failures than to successes they don't seem to notice. The following exercise is designed to develop the opposite habit, and therefore to focus more often on what we have achieved on a given day or week. In this way, our self-esteem, sense of competence and agency will increase and, as a result, our well-being will improve.
EXERCISE 4:
A message from a guardian angel
Instructions
Imagine that wise and compassionate guardian angel has been sitting on your shoulder since you were born. You have not been aware of this presence up until now because angels are weightless. The angel's sole purpose has been to recognize and observe all of your positive personality strengths and virtuous beliefs about the world. This is not an angel in charge of producing self-criticism or blame!"[1].
"For the next fifteen minutes, imagine that the angel is now dictating you a list of your positive attributes through you. Writing down whatever comes to mind, make a list of what you think that angel would say"[2].
Next, read the list out loud and try to answer the following question:
How do you feel knowing you have so many positive qualities?
"Which personality traits do you value most and want to continue to influence your approach to life?"[3]
Which virtues or positive beliefs do you value most and want to continue to influence your approach to life?"[4]
[1] Dolan Y., 2000, One Small Step. Moving Beyond Trauma and Therapy to a Life of Joy, iUniverse,
[2] Ibid.
[3] Ibid.
[4] Ibid.
Aim of the activity
The activity aims to assist the person to identify her/his strong points, skills, competence and qualities. According to Yvonne Dolan (2000) – the author of this exercise, it "(…) is helpful for reclaiming and bolstering your self-confidence and courage"
Theoretical framework
The activity is based on Solution-Focused Brief Therapy – it was developed by Steve de Shazer and Insoo Kim Berg and their colleagues beginning in the late 1970s in Milwaukee. SFBT is future-focused, goal-directed, and focuses on solutions rather than on the problems that brought clients to seek therapy[1]. According to Luc Isebaert (2016) SFBT "(…) like much of family therapy, emerged from a climate of theoretical and practical scepticism and intense interest in the mechanisms of therapeutic change. There was a growing disillusionment with psychodynamic therapy, and out of this dissatisfaction emerged a desire to find new ways of doing therapy in a less time-consuming manner". While Yvonne Dolan (2000) points out that "The questions asked in Solution-Focused Therapy are positively directed and in a goal-oriented stance. The intention is to allow a perspective shift by guiding clients in the direction of hope and optimism to lead them to a path of positive change. Results and progress come from focusing on the changes that need to be made for goal attainment and increased well-being"[2].
[1] https://solutionfocused.net/what-is-solution-focused-therapy/
[2] https://positivepsychology.com/solution-focused-therapy-techniques-worksheets/
EXERCISE 5:
Positive Notebook
Instructions
Positive Notebook is a type of notebook in which you can write down a list of your daily duties.
Remember one of your typical days. Analyze it from the morning when you get up until you go to sleep. For convenience, you can write the hours in which you perform these activities. Make a note of the list of responsibilities in the left column of Positive Notebook. Then, to each of the duties you perform, add a positive feature that makes you able to cope with this obligation.
Once you're done writing, read the positive qualities list once or twice carefully.
Now consider what are your feelings? What do you think about yourself now? If you come to any conclusion about you, write it down and remember it, it may be one of the most important and "true" conclusions about you.
If you want, you can also show and discuss the completed list with a friend, family member (informal carers) or your counsellors.
Aim of the activity
The activity aims to assist the person to identify her/his strong points, skills, competence and qualities. This can be the basis for building a sense of, which may further contribute to better achievement of academic and vocational goals.
Theoretical framework
The activity is based on Solution-Focused Brief Therapy and especially on identifying a person's inner strengths and building self-confidence. The activity was developed by two Polish psychologists and psychotherapists – Anna Biskupska and Anna Mackiewicz. Originally, it was used as part of the program of social readaptation of convicts, and then it was used as part of work with young people, including those with mental disorders.
EXERCISE 6:
WHAT DO YOU BELIEVE ABOUT YOURSELF?
Instructions
1. Do the Self-confidence Collage": take a large piece of poster board and a stack of magazines to go through,  browse their pages to find pictures that represent yourself, your talents, abilities, and aspirations. This will help you remember who you are, and what you are capable of – not what others say you are capable of.
2. Read "How Baby Elephants Are Trained":
Elephants in captivity are trained, at an early age, not to roam. One leg of a baby elephant is tied with a rope to a wooden post planted in the ground. The rope confines the baby elephant to an area determined by the length of the rope. Initially the baby elephant tries to break free from the rope, but the rope is too strong. The baby elephant "learns" that it can't break the rope. When the elephant grows up and is strong, it could easily break the same rope. But because it "learned" that it couldn't break the rope when it was young, the adult elephant believes that it still can't break the rope, so it doesn't even try!
3. Humans operate in a similar way. We learned something about ourselves at an early age and still believe it as an adult. Even though it may not be true, we operate as if it is. Fortunately, humans are born with the ability to make conscious choices – an important step in changing how you perceive yourself.
4. Complete the Worksheet "What I Believe".
Aim of the activity
Many people lose their self-confidence when they forget about their hopes, aspirations, and abilities – or when they let others eclipse them with hurtful comments. There are many ways we can go about building our self-awareness. These tips only scratch the surface of what it means and the effect it can have on our life. Building up our self-awareness also builds our self-confidence. We gain clarity about who we are and what we believe in, and this can only help as we live our life to the fullest.
Theoretical framework
The concept self-confidence as commonly used is self-assurance in one's personal judgment, ability, power, etc. One increases self-confidence from experiences of having mastered particular activities. It is a positive belief that in the future one can generally accomplish what one wishes to do. Self-confidence is not the same as self-esteem, which is an evaluation of one's own worth, whereas self-confidence is more specifically trust in one's ability to achieve some goal, which one meta-analysis suggested is similar to generalization of self-efficacy. Confidence typically refers to general self-confidence. Psychologists have long noted that a person can possess self-confidence that he or she can complete a specific task (self-efficacy) (e.g. cook a good meal or write a good novel) even though they may lack general self-confidence, or conversely be self-confident though they lack the self-efficacy to achieve a particular task (e.g. write a novel). These two types of self-confidence are, however, correlated with each other, and for this reason can be easily conflated.
EXERCISE 7:
EMOTIONAL HIJACK
Instructions
Remember 2 situations when you were emotionally hijacked.
Situation 1, please describe it:
What caused the situation (trigger)?
How did you react?
How did other people react?
What was the result?
What could you have done in a different way?
Situation 2, please describe it:
What caused the situation (trigger)?
How did you react?
How did other people react?
What was the result?
What could you have done in a different way?
Aim of the activity
The emotional hijack has the following components:
1. Trigger – what causes the reaction
2. Reaction (spontaneous)
3. Strong emotion
4. Feeling of regret after that
Theoretical framework
Amygdala hijack is a term coined by Daniel Goleman in his 1996 book "Emotional Intelligence: Why It Can Matter More Than IQ". Drawing on the work of Joseph E. LeDoux, Goleman uses the term to describe emotional responses from people which are immediate and overwhelming, and out of measure with the actual stimulus because it has triggered a much more significant emotional threat.
Emotional hijacking happens when our rational mind is overpowered by our emotions. It is easiest to recognize when we are in a state of fear or anger. Remember a time when you suddenly and uncontrollably felt angry at someone or something and started shouting for example. Why this happens and why it is hard but possible to control is explained by psychologists and neurobiologists. First of all, we must start by saying that this is completely normal and biologically encoded in our brains and bodies. From the times that people were still living in wild nature under constant danger, our bodies developed a mechanism to provide us with speed of action and thus save our lives. For example, when a person is in danger (which is perceived by our sensory organs, ex. eyes) the signal for the danger goes faster to the amygdala (part of our limbic system) than to the neocortex (our rational mind) and triggers the so famous "Fight or Flight" response. In this way it saves time, but also in order to do this it overrides our rational mind. It happens in an instant and our emotions seize power over our actions.
Although this could save our lives in a situation where we are facing a lion for example, in our nowadays lives this brings us more trouble than benefit. This response is triggered any time we feel threatened, which happens very often in social situations. For example, somebody says something offensive about is. We get emotionally hijacked and start shouting back. But does this reaction save our life now or cause us more trouble? Usually aggressive behaviour provokes more aggression on the other side and we go into a downward spiral of fighting. That is why it is worth learning to recognize and control this state.