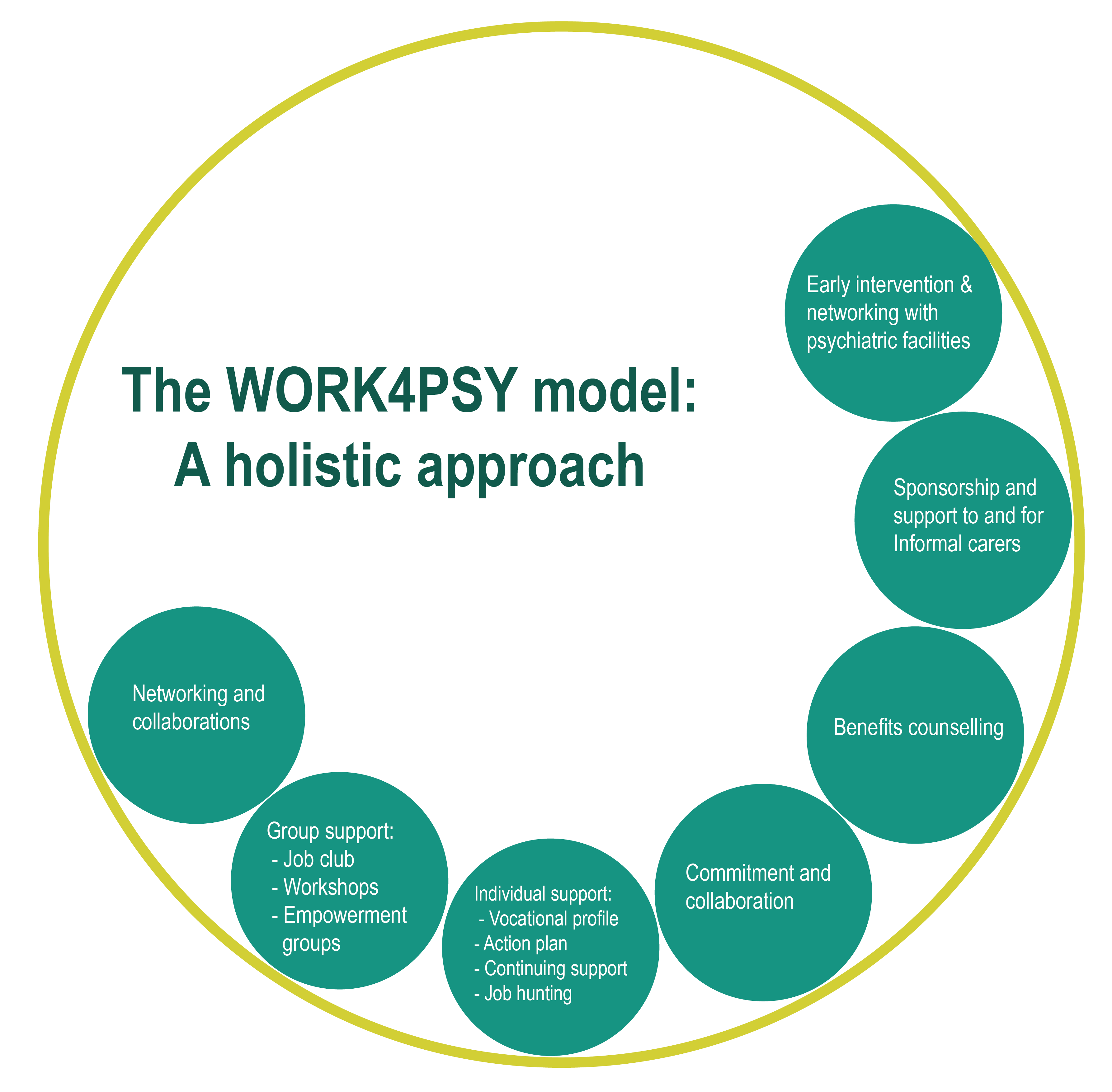 Zestaw narzędzi dostarcza specjalistom zdrowia psychicznego, doradcom zawodowym, osobom  MH NEET i ich nieformalnym opiekunom, lokalnym agencjom i władzom oraz wszystkim innym zainteresowanym, niezbędnej wiedzy i interaktywnych narzędzi doradztwa zawodowego w celu zwiększenia integracji zawodowej i edukacyjnej osób z MH NEET.
 ECCpsy-KIT oferuje informacje i wskazówki w różnych obszarach tematycznych, dobranych tak, aby pomóc i wesprzeć wszystkie zainteresowane strony oraz podnieść świadomość. Narzędzia i działania zawarte w zestawie są praktyczne, łatwe w użyciu i dostosowane do każdej grupy docelowej. ECC psy-KIT prowadzi wszystkich zainteresowanych przez proces pracy i edukacji osób o statusie MH NEETs od pierwszego etapu samooceny do końcowego etapu ciągłego monitoringu, mając na celu osiągnięcie większej liczby osób o statusie MH NEETs na rynku pracy i w edukacji.
Model Work4Psy dla NEETs z MH opiera się na teorii konstrukcjonizmu społecznego i perspektywie narracyjnej oraz zapożycza elementy i cechy z ram zatrudnienia wspomaganego, w szczególności modelu indywidualnego zatrudnienia i wsparcia (IPS) i modelu rehabilitacji zawodowej osób z problemami psychicznymi opracowanego przez partnera z Grecji PEPSAEE.
 Model ten kładzie nacisk na wczesną interwencję, doradztwo w zakresie świadczeń i współpracę z wielodyscyplinarnym zespołem psychiatrów, psychologów i pracowników socjalnych. Koncentruje się on na nadawaniu znaczenia i współtworzeniu własnego "ja" zawodowego poprzez zaangażowanie i aktywny udział zarówno ze strony osoby o statusie MH NEET, jak i doradcy zawodowego. Istotnymi elementami proponowanego modelu są: tworzenie sieci, współpraca i aktywne zaangażowanie opiekunów nieformalnych oraz ich wsparcie.
FOCUS GROUPS
Rationale of focus groups
The use of focus groups was chosen in order to gather data concerning the target groups' beliefs, opinions, perceptions, attitudes and feelings in more depth. Focus groups were an extremely valuable tool to investigate the needs of the four WORK4PSY project target groups. The data that was collected were useful in the formation and context of the toolkit.
Methodology
Research questions / main themes
The starting point of the focus groups' thematic was the results of the literature review as well as the partners' expertise. The questions/ themes were designed to: (a) investigate the topics that WORK4PSY focuses on and provide concrete data, (b) be sufficiently stimulating, (c) be relevant to the participants, and (d) be open, so as to lead to in-depth responses and rich data. As pertaining to the above the four themes that were deemed relevant were:
• Significance of work and career in general
• Existing career services
• Difficulties that they face
• Assistance they need
A synthesis was performed in these analyses and the results are summarized as follows for each main theme:
The significance of work and career in general is summarised in these main themes:
Work is seen as an important element of MH NEETs' psychosocial rehabilitation
Work is viewed a means for recovery and self-development
Work has a tangible (autonomy, security, structure) and intangible (existential merits) value
The main themes that emerged for the issue of existing career services were:
There are enough organisations that offer support and have adequate funding, but the system is too complicated, young people are not informed of the services offered and there is lack of networking and cooperation
There is a limited number of organisations that offer support, limited information about them, lack of orientation and early interventions
Stigma and lack of awareness is an obstacle to using services supporting the process of work integration
The difficulties that the target groups reported that they face can be mainly summarized in four issues:
Stigma and lack of awareness
Labour market and organizational problems
Specific needs of MH NEETs not met
Lack of early interventions
The assistance needed may be summarized in three dimensions:
Systemic and institutional changes that need to be promoted
Proactive and early interventions that need to be established
A shift in paradigm towards a capabilities approach